Animated New Year Graphics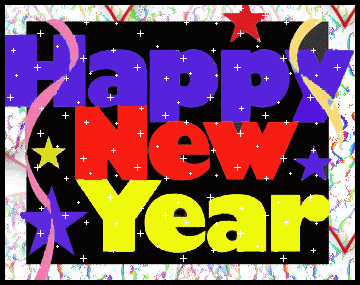 Better late than never, I want to post this New Year greeting on my main site. Happy New Year! It's time to welcome 2013…
I have always loved the New Year as for me it brings hope for a better tomorrow. 2012 is gone. Time to say good-bye to the old year and welcome the new one. My previous post was on goal setting. I must admit I have stopped doing it for quite some time now. Perhaps it's time to get back to the task.
Time flies by so fast and I guess I just want to maximize the best use of my time. Time is gold. Cliche, true. But to me, it is one important resource 'coz no matter where you are in the world, what your status in life is, who you are, or what you do, we all have but 24 hours in a day. No more, no less. We owe it to ourselves and to humankind to use time wisely.
There's a lot of work to be done daily. And since mid-December, my list of task has expanded to include household chores. You see, our laundry woman finally decided to retire after twenty years. Instead of incurring additional expenses in having laundry done, I'd rather now do it myself. Throw in ironing too. Well, I'm sure I can fit it in my schedule. I just need to have good time management. And life does go on… I have a feeling 2013 is going to be one challenging year! :p But I'm sure that all will be well at the end of the day.
Well, that's it for now. I wish you more blessings of joy, peace, prosperity, and good health for the New Year! And this fruit basket… They say it's lucky to have twelve sweet round fruits on the table when welcoming the New Year. (Read "12 Fruits for the New Year – A New Year Tradition" for more info.)
Comments Off on Happy New Year! Let's Welcome 2013…